HOW PRUVAN WORKS
Pruvan Captures Certified Photos, Videos, Mobile Forms, and More.
Pruvan's service business software and mobile solution deliver real-time field visibility to better manage quality, costs, and crews. Get paid more and get paid faster by providing clients with third-party certified photos, videos, and forms that prove the job was done right and on time.
Pruvan is used for property preservation, REO and mortgage servicing, inspections, general contracting, cleaning services, lawn care, manufacturing, oil and gas inspections, and more.
Easily Mobilize Your Business
Why spend thousands of dollars and countless hours on a mobile app when you could use Pruvan's expertise instead? Utilize our state-of-the-art mobile technology to take your business to the next level.
Learn More >
Stand Out with a Custom Branded Client Portal
Take your business to the next level with a professional and elegant Client Portal branded with your logo. Clients can view photos and video in real time and leave feedback for you and your crews.
Learn More >
Improve Operations with Real Time Field Visability
Pruvan provides real time visibility into a job site from the comfort of the office. Photos and field data appear almost instantly allowing office managers to provide feedback and request additional tasks saving time and money by reducing visits to a location.
Learn More >
Free Cloud Based Storage with Desktop Syncing
Never lose a photo or work order again. Pruvan backs up all your data in our extremely secure cloud-based server. Cloud shy? Use our desktop application to sync your files to your own hard drive.
Learn More >
Integration Options from Simple to Sophisticated
It's simple to get started with Pruvan today. Want to fully integrate Pruvan's mobile capabilities into your business systems? Absolutely possible with the options of Zero Integration and our open API.
Learn More >
Onsite Background Check Support
Required to background check employees, contractors, and crews? Are these background checks required at each job site? Pruvan offers a way to maintain compliance with just the click of a button.
Learn More >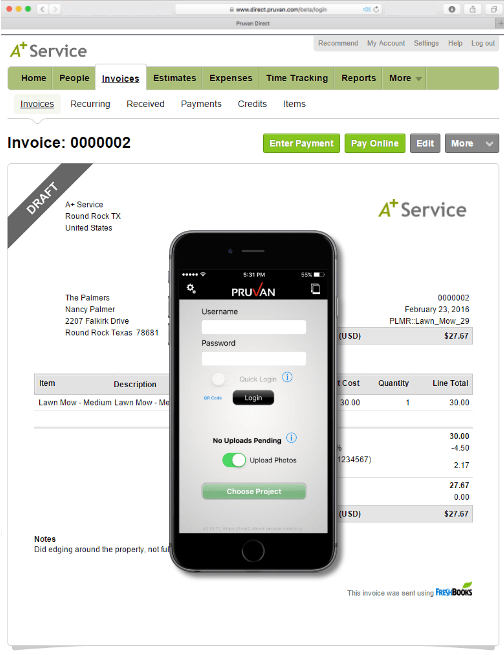 Get started with Pruvan today. You can try us for free! These next steps will get you out in the field taking photos, sharing certified results with your clients, and getting you paid faster with our invoicing options in no time.
Create an Account & Get Pruvan Mobile
Share Results and Get Paid
"Pruvan Mobile has helped our company run at an optimal level.  We have been able to receive and send photos, files, and documents effortlessly and it has allowed our volume of work to increase. We have been able to receive work from several clients and also assign work to contractors in different states, all using Pruvan's functions and services."
Raquel Lopez
"Awesome app for property preservation field reps…uploads all the photos of every job automatically by address, so easy to point to folder and upload pics…highly recommend! This app works for Droid and iPhones. Plus, they really know how to get you up and running with the system, they are always very helpful if you have a question or suggestion."
Chuck Larson
"Your app changed my business, it changed everything… It is absolutely off the Richter scale amazing… This app could save so many people so much time…. Its just incredible… it is an amazing application… Your app saved me 4-6 hours a day and probably saved my marriage…"
Nathan McDougall
Mobilize Your Service Business Today
Want to learn more about Pruvan? Want to see how we can mobilize your service business and differentiate you from the competition in your industry? Send us your email and a Pruvan team member will be in touch!