Industry Solutions | Property Preservation
Pruvan Property Preservation App
Go mobile today with the app that's the leader in the Property Preservation and REO/Mortgage Servicing industry.
Pruvan has been the mobile app of choice for the Property Preservation and default servicing industry for over seven years.
We have thousands of customers out in the field every day using Pruvan to send certified photos, videos, and mobile forms to their clients that prove completed grass cuts, trash outs, winterizations, snow removal, and so much more.
It's our rich set of features that have made us the go-to in this industry.
Pruvan Mobile never loses a photo. Ever. Our free cloud storage keeps all of your photos, videos, and mobile forms safe and secure. The hours and hours spent manually organizing photos at the end of a long day in the field are no more with our desktop application that auto-organizes all of your field data off-line into the folders and sub-folders of your choice. Tired of using a clipboard and pencil to complete industry forms like a PCR? With our Mobile Forms you can complete a PCR on your phone and export it into a PDF file that's ready to send to the client. You can also use our Form Builder to create a Photo Only Survey or a Bid Survey; never forget basic photo requirements and easily submit a Bid if you see an extra repair at a property.
Are you a regional or local business that gets work from several national work providers?
Pruvan has partnered with the biggest names in the industry to make it easy to get all your work orders from different nationals organized into a single Pruvan account. With our integrations, we know exactly where to send each work order and often times we can do so automatically when a work order is marked complete. Want to QA the results you get from your crew before sending? You can do that too in your Pruvan Online account. Want to get more work from these national work providers? Our partners are always looking for talented vendors who use Pruvan and we have the information on how to apply to become a vendor for these companies.
Pruvan solves all these problems and more. We can create a custom integration to send work orders directly from your system to your vendors and get certified results back in real time. With over 15,000 active devices in the field, Pruvan can also help you connect with vendors in specific regions with specific skill sets.
Do you need to comply with any vendor oversight initiatives?
Are you or your clients requiring on-site background check-ins? Pruvan has integrated with software company Aspen Grove Solutions to provide the seamless transfer of check-in data (using ABC#'s) with just the tap of your screen. No more logging in and out of different apps to maintain compliance. Check-in is also FREE. Pruvan does not make you pay for an account in order to check-in on-site.
Does your property preservation or inspection company not have a mobile app yet?
Are you frustrated with the time and money it takes trying to build your own? With Pruvan it's easy to mobilize your business. Custom branding is free and it is easy to integrate Pruvan into your operations as an extension of your brand and your business with YOUR company logo on Pruvan Mobile, Pruvan Online, and the Client Portal.
So what are you waiting for?
Join the thousands of other property preservation and default servicing professionals and start using Pruvan to provide certified results, reduce time in the office manually organizing those results, and get more work done faster and get you and your crews paid quicker. Try us out for free or connect with a Pruvan team member to learn more.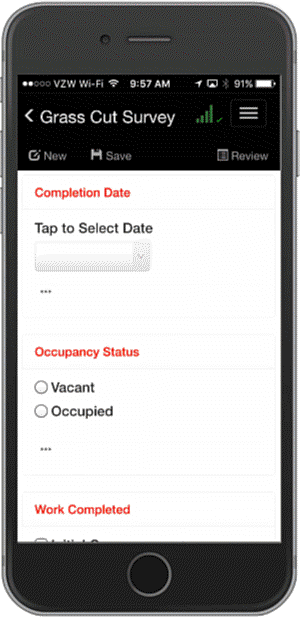 Want to learn more?
Fill out the form below and a Pruvan Representative will be in touch. You'll then be able to ask questions or schedule a live, one-on-one demo for free!
Testimonial
Published 4 Nov., 2016 by Joshua M.
Property preservation must! This product saves me about 30 minutes of my time daily. I don't have to move photos from a digital camera, compress them and then sort them. The software does it all.
Looking for a specific work provider like Cyprexx, MCS, ServiceLink, or others?
Click here for specific sign up instructions for our integrated partners.
Need to learn more about FREE Check-in?
Click here to learn how you can maintain compliance with a free Pruvan account.